Naturally, most households have plenty of security measures in place to protect their families and their large investments. Doors get locked, bikes get chained, and security systems get turned on. But because it's intangible, people often forget to make the same effort to keep their identity safe. If you are disposing of documents with private information at your home, they are at risk of being stolen and used against you.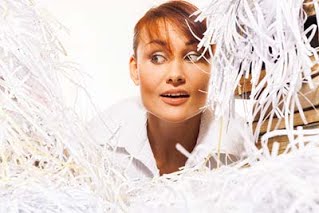 Identity theft in Chicago and nationwide has been on the rise for years. Far too often people find themselves as victims of identity theft without having a clue as to how it happened. It could have been caused by something as simple as having thrown their personal papers in the trash.
It's commonplace to carelessly throw away bank statements, medical records and credit card information, so thieves know to target your trash and will dumpster dive to obtain your information. For this reason, document shredding is important.
How Shredding Services Can Help You Shred Old Files
Advancements in the field of paper shredding have made it easier than ever for a household to make use of shredding services. Chicago Document Shredding's contractors offer on site shredding if you want to witness your documents being destroyed, and off site shredding if you are looking for a more economical solution.
And don't forget about the importance of shredding your old hard drives as well—your data is recoverable even if you've deleted all of your files. A certificate of destruction is always provided to you once the job is completed.
Shredding is now so simple, there's no reason not to have your personal documents shredded before you throw them out—just be sure to file your documents away until you're ready to shred. And, as a part of our convenient service, we'll do the tossing for you by taking them directly to the paper mill after they are shredded to be recycled into new paper.
Chicago Document Shredding partners with service providers who can pick up any amount, from one box of paperwork to a warehouse full of documents, anywhere within Illinois, and shred them in minutes. These days it's the smart, affordable thing to do. Give yourself the peace of mind that comes with knowing that you and your family don't need to worry about your security.
Get FREE Quotes on Shredding Services in Chicago and the Surrounding Illinois Area Today!
Even household documents are vulnerable to the sneaky, greedy hands of identity thieves. Do the smart thing by protecting yourself and your family today. Chicago Document Shredding will happily provide you with fast, convenient, and reliable service options that you can trust.
Request a free quote or give us a call at (847) 978-4918 today. You will hear back from a qualified expert within minutes!