You may have more paper to shred than you know what to do with. After all, a standard size file box filled with paper can weigh about 30 pounds, which means several filing cabinets full of documents could easily weigh over 1,000 pounds. Fortunately, Chicago Document Shredding is well aware of how hard it is to transport documents to a shredding facility, which is why we partner with on site service providers. These services send a truck to your location and shred all of your documents in a secure shredding truck.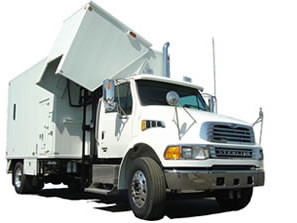 Hoping to witness the destruction of your documents as well? On site shredding is very convenient for those who want to witness the process. When it comes to the security of your private documents, you can never be too careful. Witnessing the destruction of your documents is a great way to ensure your peace of mind, and on site shredding is the only service available where this can be done.
Our shredding trucks are fully equipped, self-contained, and can shred documents with staples, paperclips, spiral notebooks, folders, and much more. Feel free to check with us if you have more questions about what our trucks can shred by calling (847) 978-4918.
If you are in need of ongoing shredding, you can have locked bins brought to your location for you to place your documents for destruction in. When it comes time for your regular shredding service, whatever is in the bins is shredded for you so that you don't have to worry about making space for all those documents in the meantime.
Here's How the Mobile Shredding Process Works
Gather all items you'd like to shred in one place (or in your secure locked bin, if applicable).
Materials are then destroyed in a secure shredding compartment of the truck. You can witness the entire process.
When the shredding process is complete, the shredding operator will provide you with a Certificate of Destruction.
Your shredded materials will then be transported a secure recycling facility, where they will turned into pulp and recycled into new paper immediately.
If you know you have quite a sizable shredding project, or will need shredding regularly and don't feel the need to waste time witnessing your shredding each time, then off site shredding might be a better solution.
Contact Us Today for FREE Quotes on On Site Shredding in Chicago
If you have more documents than you can manage or want to witness your documents being destroyed, then on site shredding is the right solution for you. On site shredding trucks provide service to homes and businesses in Chicago and the surrounding Illinois area. Make the right choice for your private information by choosing an on site shredding service. Let Chicago Document Shredding help you start your protect today.
Fill out the form to the left, or call us at (847) 978-4918 to get started. We look forward to working with you!